Vibratory Finishing Products
Vibration chemicals are used for operations such as rounding, degreasing, polishing, corner breaking, passivation, deburring and corrosion protection, generally used in vibration - rotofinish machines.

There are neutral, medium alkaline and acidic based products. These are water based products that can work at low concentrations and ambient temperatures. It is widely used for aluminum, zamak, brass, iron, steel and copper materials.

Such chemical compounds are frequently used for the surface treatment of thousands of metal injection or mold exit products such as metal door handles, garment buttons, fork, knife, spoon ... etc.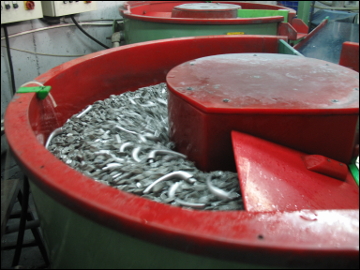 VIBB 104 - Acidic Degreaser
Suitable for zinc alloy, iron, steel, brass, aluminum and copper. With the help of surfactants, both degreasing and deburring process is made easier. With the acidic effect, the oxide layer on the metal surface is cleaned and a suitable surface is prepared for painting.
VIBB 300 - Deburring/Polishing
Product used for rotofinishing/vibratory finishing of iron, steel, zamak, brass and aluminum materials for polishing, surface correction, sensitive and rough deburring, cleaning, rounding pointed areas. It can be used with ceramic and hard plastic materials in vibration systems.
VIBB 103 - Deburring/Polishing
Neutral type deburring and polishing product which is suitable for use in vibration machines, especially for zamak, stainless, iron, brass, steel and copper materials. The surface of the treated parts is covered with a thin film with high corrosion resistance and bright appearance.
VIBB 205 - Deburring/Polishing
Slightly alkaline product used with deburring and polishing media in vibration machines. It is suitable for aluminum, zamak, iron, steel, brass and copper. It helps to perform degreasing and deburring together. The treated parts become resistant to rust formation.
© 2019 ILVE CHEMICAL COMPANY LTD. - All rights reserved.